Windpark Deil in the Netherlands Starts Commercial Operation
Amsterdam, the Netherlands – 1 July 2020
Eurus Energy Group ("Eurus"), a leading Japanese renewable energy company, announced today the start of commercial operation of Windpark Deil, a 21 MW wind farm located in the municipality of West Betuwe in Gelderland, the Netherlands.
Windpark Deil consists of five Vestas V136-4.2 MW wind turbines, each with a hub height of 140 meters, a rotor diameter of 136 meters and a rated power of 4.2 MW. The construction of the wind farm has been managed by YARD ENERGY, from which Eurus acquired the project in 2018. The power generated at Windpark Deil, which will be sufficient for supplying renewable electricity for more than 26,000 households, will be sold to Eneco Group.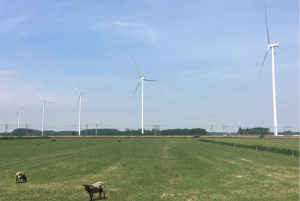 Related project:
Location: Gelderland
Country: The Netherlands
Phase: Operational
Start date: June 2020
Type: Wind